9th Generation Honda Civic Forum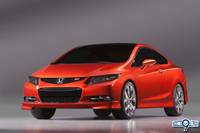 2012 Honda Civic Photos Released
When the all-new Civic arrives this spring, it will continue to be a standout in the compact segment, with all the value, reliability, sporty performance and efficiency you've come to expect from this iconic vehicle. The 2012 Civic will offer an unparalleled level of variety, with standard coupe and sedan models, two sporty Si versions, one hybrid, one natural-gas alternative-fuel variant and an all-new model—the Civic HF. In the tradition of the Civic CRX HF of years past, the new Civic HF has a similar goal of high efficiency with gasoline-only power, delivering a targeted EPA-estimated fuel-economy rating of 41 mpg on the highway[1]. Also delivering on the efficiency front is the all-new Civic Hybrid. With its all-new lithium-ion battery, the Civic Hybrid boosts its mpg numbers significantly with a targeted EPA-estimated city/highway combined fuel-economy rating of 45 mpg[1].
The sleek new Si performs an engineering paradox by enhancing efficiency and performance simultaneously with its torquey new 2.4-liter i-VTEC® engine. The next-generation Civic brings enhanced styling, performance and efficiency across the model range.
[1] Preliminary EPA mileage estimate determined by Honda. Final EPA mileage estimates not available at the time of printing. Use for comparison purposes only. Your actual mileage will vary depending on how you drive and maintain your vehicle.
More after the break
[...]