Administrator
Admin
Toys For Tots
Here Are Your February 2014 Ride Of The Month Finalists
Multiple selections are allowed. Best of luck to everyone this month. In order of submission:
======
1) @stormCIVIC
Build thread:
http://9thcivic.com/forum/threads/stormcivic-fg3.6713/
Performance Modifications:
*R18 engine
-k&n drop in filter
-flowmaster 50-series deltaflow exhaust
Suspension & Wheel Modifications:
-15in motegi sp10 hyper black finish
-gorillia lugs (red)
-type r valve caps
-(current) Aspen touring tires P195/ 65 R 15 89 H
-(old/ now beaters) Continental ContiPro Contact tires P195/ 65 R 15 89 H
Exterior Modifcations:
-powerflow mud flaps from
www.
jcwhitney
.com/
-Yakima 58in crossbars
-Yakima Q towers
-Yakima Q99 clips
-Yakima Hullraiser
-Yakima 44in fairing
-honda oem fog lights
-yellow jdm fog overlays
-
GrafiXpressions
dark smoke rear turn signal overlays
-
GrafiXpressions
econ decal in chrome green
-
GrafiXpressions
(2) R18 crew member 001 decal in silver
-
GrafiXpressions
hondata decal in white
-
GrafiXpressions
grafixpressions decal in digital camo
-spec d tuning rear neo chrome tow hook (removed)
-jdm front license plate "VTEC" (removed)
-Id rather be cycling decal in white
-Oakley decal in white
-honda decal in silver
-LED license plate lights 168
-LED reverse back up lights 921
-Ark performance tag frame
-light grey/silver high heat painted rear drums
-rear roof visor/spoiler
Interior Modifications:
-custom red interior lighting
-corsport jdm red steering wheel emblem
-momo seat belt covers (red)
-red high heat painted engine cover
-pilot racing pedals
-decals located in interior and in engine bay
-LED dome lights DE3175
-LED map lights DE3175
-LED trunk/cargo lights 168
-red floormats with FG logo
-vtec decal in red
-tinted windows (20%)
=================
2) @ADExternal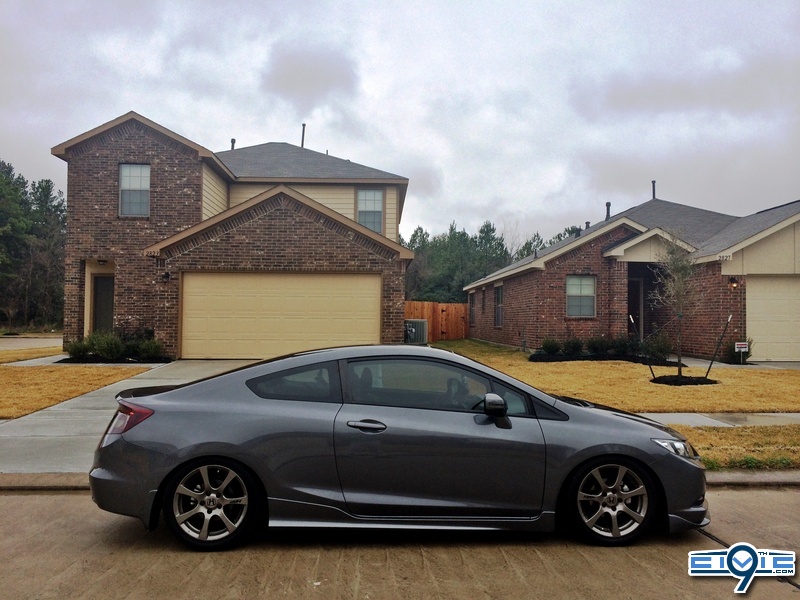 Mod List:
INTERIOR
LED Trunk light
LED Map lights
LED Dome light
Re-tinted windows from 50% to 35%
Civic Illuminating Door Sills
OEM Honda AutoShade
300mm Clear Broadway Mirror
Custom White LED Ambient Floor lights
Custom Blue dim LED accents
WeatherTech DigitalFit Mats
Custom Cup Holder Illumination
HFP Custom Logo
V1 Radar Ver. 1.85
Euro style Flip key
Full Color Reverse Camera
Custom iMid HD Media Player
Manual Shift Boot
6 Gauge OBDII Monitor
Additional Cup Holder
UNDER THE HOOD
2012 Accord Horn Swap
Compustar EZ-Go Module
Compustar Volt/Temp Sensors
Compustar 2W901R-SS Autostart/Alarm
Performance K&N Drop-In Filter
Intake Resonator Delete
EXTERIOR
6000k 35w HID Low Beams
5000k Nokya High Beams
3000k 35w HID Fogs - swapped with 6k
Taillights - 35% High Quality Vinyl Tint
LED License Plate Light
Metallic Dip Front Emblem
Black Dip Emblems & Badges
Civic Badge Removed
Universal Polyethylene Lip
Yospeed Custom License Plate
Tinted Turn Signals
Reverse Projector LED
Custom CRV Reverse Camera
Black gloss Read under bumper
UAE Projector Headlights
5000k Silver Star front turn Signals
Custom LED Tail Lights
Black Gloss Vinyl Wrap Hood, Roof, and Trunk
Canbus LED Parking lights
Hybrid Side Mirror and LEDs
SUSPENSION
Bronze HFP-R7 17s Rims
OEM NSX Black Tuner Lugs
OEM S2K Black Tuner Wheel Locks
Black H Center Caps
BC Racing Coilovers BR 7k Front / 6k Rear
Custom Adjustable Camber Arms
http://9thcivic.com/forum/threads/adexternals-pmm-civic-aka-orianna.6532/
=================
3) @BlacklistRogue
THE MONEY SHOT
-Kraftwerks Full Supercharger kit
-Grams 1000cc injectors
-Skunk2 Rear Camber Arms.
-Skunk2 Mega RR exhaust
-Skunk2 alpha down pipe
-Skunk2 Cold Air Intake
Accessories
-Skunk2 fender washers
-brake booster cover.
-Short shifter
Others Modifications
-Duethcwerks 265 Fuel Pump
-PasswordJDM Red H BAdges
-Fog overlays
-PasswordJDM 8000k Xenon Hid Kit
-HFP front lip, Rear lip and side skirts
-Corsport steering wheel badge
-D2 coilovers
-Pr2 Throttle body spacer
-Hondata Flash Pro
-Seibon Carbon Fiber Hood
-Kplayground 8th gen duckbill custom fabricated to fit 9th Gen coupe.
-Varrstoen ES2 17x9 +30
-Varrstoen Extended (custom painted) lugs.
=================
4) @DNARevolutions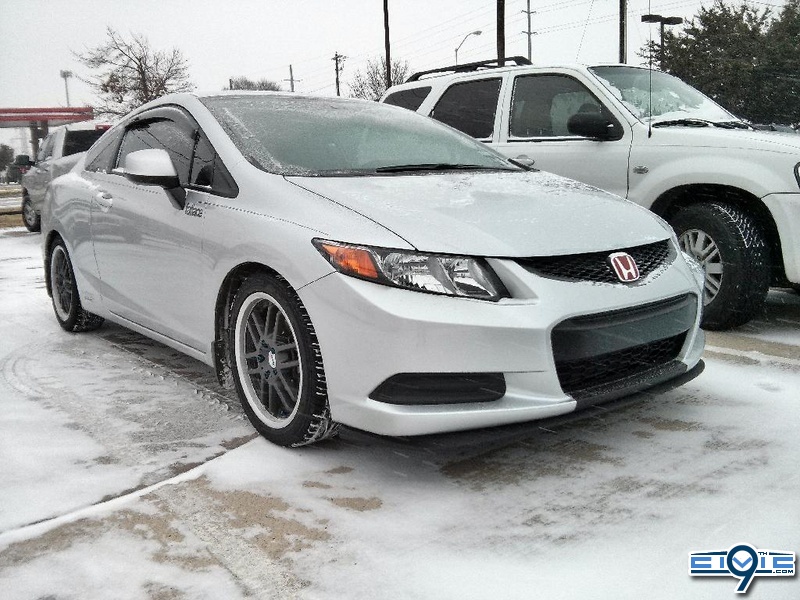 Exterior:
TSW Catalunyas 17x7
Hankook Ventus HRII 215/45/17
Varrstoen VT48 lugs
STi Lip
JDM Emblems
Taillight/Window Tint
Plastidipped Misc
Stickers
"Performance":
H&R Sport Springs
Custom Flowmaster 2.5" Catback Exhaust
DDM Tuning 6000K HIDs
Yospeed Battery Tie Down
K&N Air Filter
Resonator Delete
Interior:
LED Map and Dome
300mm Broadway Mirror
Chococat Mascot
http://9thcivic.com/forum/threads/dnas-lx-coupe-build.9639/#post-264764
=================
5) @Joe Liu
Joe's Daily Driven FB2
Exterior
- OEM Wing spoiler
- OEM Fog Lights
- Morimoto Mini H1 Projector retrofits
- Morimoto Elite 3Five HID System [5000k]
- LED License Plate Light [Xenon White]
- tinted rear doors & rear windshield [20%]
- tinted front doors [35%]
- 9thgencivic & 9th Civic endorsement decals
- Red JDM Honda Emblem [FONT & REAR]
- LED Reverse Lights [4800k]
- Si Grille
- Si exhaust tip
- custom rear R18 badge
- smoked reverse light overlays
- Modulo Front Lip
- OEM Door Visors
Interior
- Broadway mirror [Flat - 270mm]
- hardwired Escort Passport 8500 x50
- LED Map, Dome, & Trunk Lights [Xenon White]
- Red JDM Honda Steering Wheel Emblem [J's Racing]
Under the hood
- Injen SP Series Cold Air Intake
- Injen Hydro-Shield
- Viper 5704v 2-way Car Alarm System w/ Remote Start & Proximity Sensor
- Hella Supertones

Suspension
- Si rear sway bar
- Megan EZ Street Coilovers
- Eibach Pro-Alignment Front Camber Bolts
- GodSpeed Gen2 Rear Camber Arms
Wheel and Tire
- Work Emotion CR Kai's [gunmetal] 17x8 +47 5x114.3
- 225/45/17 Yokohama S Drives
- Red BlackWorks Racing Tuner Lugs
Build Thread:
http://9thcivic.com/forum/threads/joes-jliu1234-fb2-r18-build-thread.4415/page-9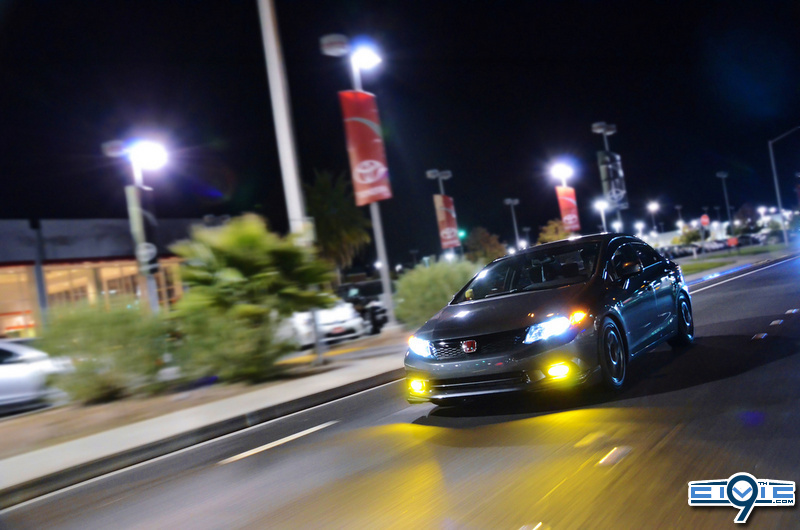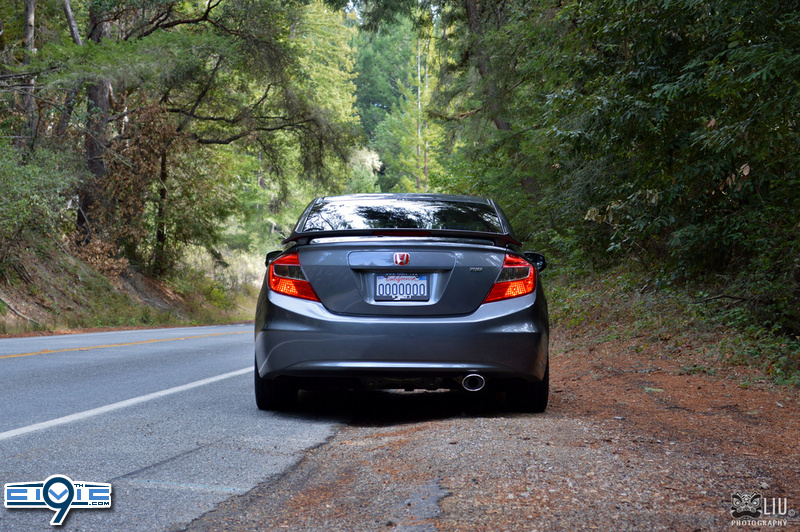 ====================

Best of luck to all
Last edited by a moderator: