Just in case there is anyone else that has problems with heel & toe double d-clutch downshifts on the 2012 Si.
(I am a little annoyed that a sporting car like the Si has pedals that are
impossible
to heel & toe - the Japanese test drivers must have tripple jointed feet or something!)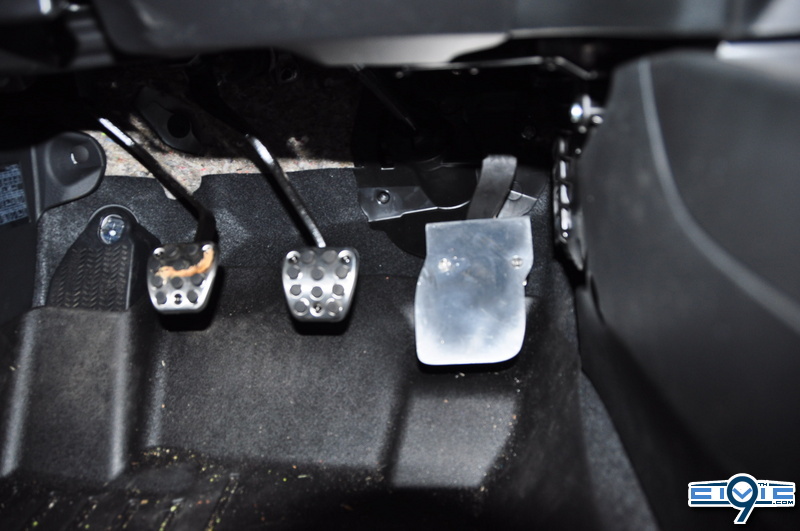 I had a look at the pedals and they seem very difficult to move - so after a while I decided to cut and bend an 1/8" aluminum plate to clip over the pedal. Best part is that there was no modification to the standard pedal and it removes easily with 2 screws.
O.K. so it may not look so good - (kind of stupid looking actually) - but it's left edge is a good 1 inch closer to the brake pedal and at least 2/3 inch lower and this makes all the difference in the world.
It was quite easy to make (and I am no handyman's backside - as you can tell by the finish) - if you look at the "Pedal rear" photo (with the pedal on its side) you can see the top 2 bent tabs that hook over the top of the standard pedal and the small metal strap that secures it firmly in place behind the rear of the standard pedal. I cut up an old biciyle tube for a rubber liner to ensure that I do not scratch the original pedal. (The 2 screws straddle either side of the standard pedal - which explains why this clip-on is so wide.)
So now all I have to do is get my downchanges right......... I manage a good 1 in about 4 downshifts, but still the other three, even if they half match the correct speeds, the will then half save on synchro cone wear........