Jötunn Moderator
VIP Member
10,765
8,162
Body Style

It's A Fast Pig!
External ATF Cooler:
This is a guide on installing a transmission cooler on your 2012 or 2013 AT equipped Civic. This is not recommended for cars equipped with a CVT. My car is an 06-11 Civic but the part we are going to tap into is nearly identical on the 2012/2013 DX/LX/EX Civics.
Fiirst thing to do is decide if you want to tackle this project. It's not hard but you need to be comfortable removing your bumper and cutting/removing a couple hoses.
Next, read up on transmission coolers, the different types, lines, hoses, and so on. The etrailer website is very helpful and a quick google search for transmission coolers will lead you to several Honda Odyssey forums and off road forums. The transmission fluid coolers are very similar to external oil coolers so most of the information carries over.
Ok on to the project:
Why do this? Heat kills automatic transmissions. If you drive your car hard you will wear out the fluid fast and shorten the lifespan of your transmission. Changing the fluid more often than 30k or 60k helps a lot too.

Honda's automatic transmissions are unusual in that they do not use planetary gears like nearly all other makers. Instead, the Hondamatic and its successors use traditional, individual gears on parallel axes like a manual transmission, with each gear ratio engaged by a separate hydraulic clutch pack. This design is also noteworthy because it preserves engine braking by eliminating a sprag between first and second gears.

TL: DR The Honda AT uses clutch packs to swap between gears like a manual as well as the torque converter for lockup.


Parts needed for this setup:

Fluid Cooler (pick this first, it will determine everything else)
(Derale 51008)

Major EDIT: I initially used 3/8" trans fluid hose. It is close but not correct. It leaks slightly under high temp and pressure. You need 11/32" rubber transmission fluid hose - you can get this at

auto zone/pepboys/wherever. I had to order mine online from Summit Racing.
3/8" hose is 9.5mm
11/32" is 8.7mm
The 11/32" is very tight but it fits. I believe that the correct hose is a metric sized 9mm as the 9.5mm is just slightly too large and the 8.7mm is frickin impossibly tight but makes it. If you can find 9mm transmission hose in the US get it. Other than that the 11/32" has given me no issues.
Fittings:

2x -8AN to 3/8" hose barb adapters (Jegs is the only place that had this size)
http://www.jegs.com/i/JEGS+Performance+Products/555/110846/10002/-1


Lots of fittings and pre made hoses are available on anplumbing.com

2x 45 degree -8AN swivel fittings ( I highly recommend you get 90 fittings)
2x -8AN Male to Male Union Adapters

-8AN hoses, lengths to vary depending on your setup

If you want to include a temp gauge and sensor then you will need an adapter with a port fitting on it. The sensor I went with is a 1/8" NPT size and I picked up a hex adapter from anplumbing.



1x -8AN Male to Male w/ (1/8") .125 NPT in. Hex adapter.
(this is a hard part to find but ANplumbing has it, Earl's part number 100196ERL)







Pick a cooler. I went with a Derale Stacked Plate cooler. Stacked plates are the most efficient cooler design. It was also the smallest cooler I could find with AN fittings.

Derale 51008
http://www.summitracing.com/parts/der-51008/overview/

You have to install the threaded ports into the ends of the cooler. Depending on if you go with -8AN or -6AN the opening in the cooler will be the same but the end of the port you install will be different sizes. I called summits tech line and they said to just use a small amount of oil or vaseline on the threads into the cooler and tighten them down. There is an o-ring on the port so don't kill it putting them on. They said "if they leak tighten them more" but there was no torque spec. You need a 1" size wrench.





I decided to use all -8AN lines and fittings.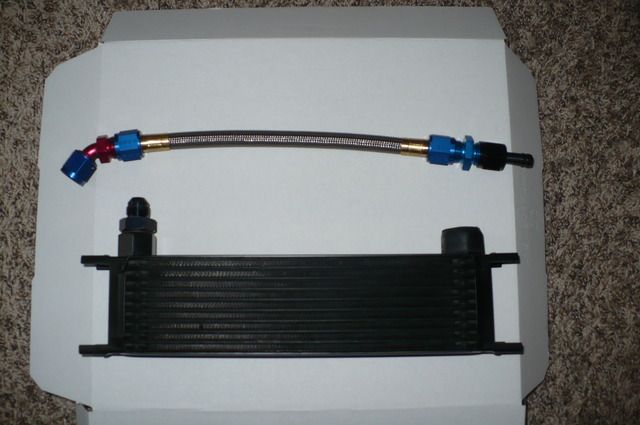 I went with -AN fittings as they are very high quality and you don't have to use any type of thread lockers, sealant, tape, or paste on them. I also wanted to install a temperature sensor. All the gauges and sensors I could find have 1/8" NPT threads and finding an -8AN tee fitting with 1/8"NPT threads was not too difficult. Rubber lines would not allow for installing a threaded sensor.

This is the sensor from the gauge I bought with the brass port extender. The blue tee fitting is a –8 Male To –8 Male w/ (1/8") .125 NPT in. Hex adapter. This was a tricky part to find but it is made by Earl's and is part number 100196ERL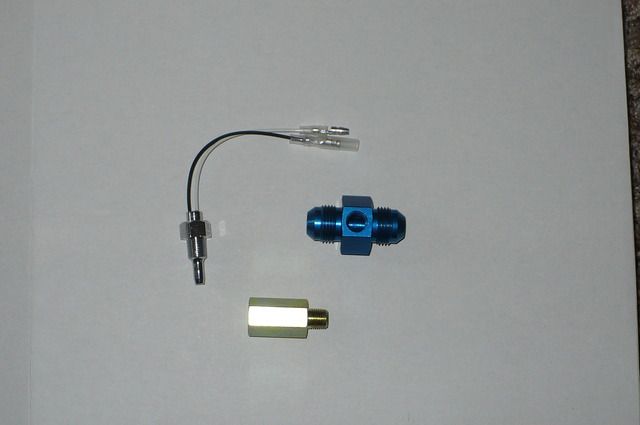 I did need a "transmission test port extender" which is the brass piece. It is 1/8"NPT threaded.

Without the extension the sensor hits the inside of the tee fitting.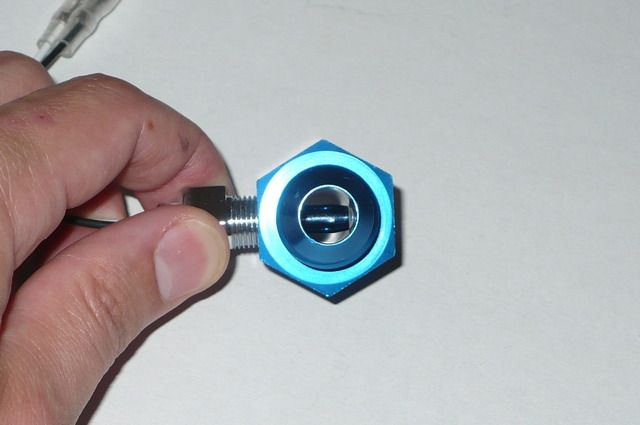 NPT threads are tapered and seal by being jammed against each other and deformed. The AN fittings are tapered and fit together perfectly. the NPT threads are much more likely to leak but I had no option for a non-NPT temp sensor. I did put thread locking paste on the NPT threads and tightened them very well. This is as far as the sensor and extension would thread in and it looks terrible in my opinion but the rest of the install is very nicely finished with the AN fittings.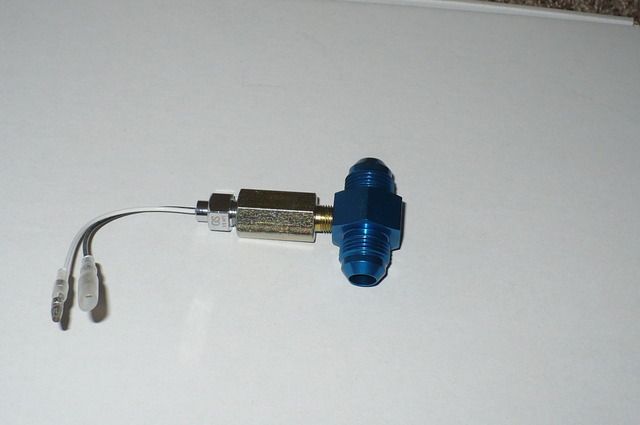 I bought the cooler from summit racing and I got all the fittings and lines from ANplumbing.com
They have all the fittings and pre made hoses in which ever size you decide to go with.

-8AN hoses: I measured from behind the lower grill opening in the bumper to the ATF warmer. I got 3 different lengths but connecting to the stock system is still done with a section of rubber hose so if you are a little off you have a very forgiving and adjustable connection.

The sections are 34" 21" and 10"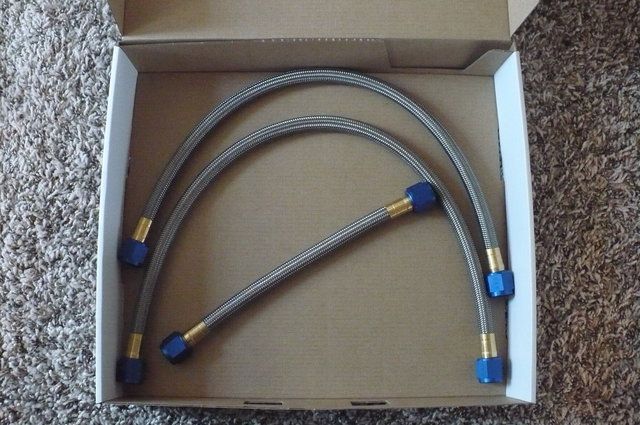 To connect the AN hose to the stock system you need a couple AN to hose barb adapters. The stock hoses are damn close to 3/8" and the 8AN fittings are slightly larger than that. A full system of -6AN would probably work fine as well. You also need 2 A.N. Male To A.N. Male Union Adapters in whatever size you went with.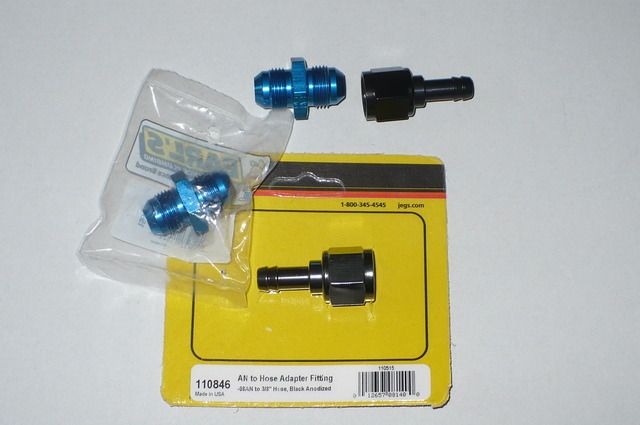 I used 45 degree swivel fittings to attach the hoses to the cooler itself but I would highly recommend 90 fittings instead. It will make hose routing much much easier. They cost a little it so I didn't want to go back, re buy and reinstall. Maybe in the future if the hoses give me rubbing issues. Use quality fittings from Aeroquip or Earls. Some of the "house brand" fittings have poor reviews on the muscle car and turbo/GM LS V8 forums.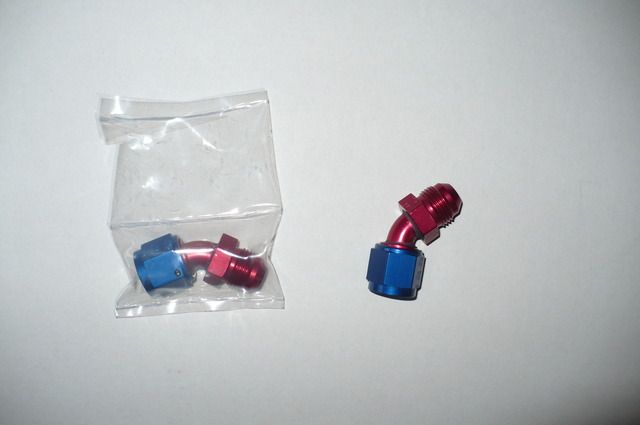 This is the gauge I decided to use from Glowshift. I know its not the most high quality gauge out there but it was affordable and their wiring made the most sense to me. Also, they were able to tell me the threads and length of the sensor. They also sell the port extension on their website.






I have read that the sensor can sometimes leak and the NPT threads are the most likely spot to have an issue. As a backup plan I ordered two NPT plugs that I can insert into the port on the tee fitting and remove the sensor completely if it give me issues.


Last edited: