Administrator
Admin
Toys For Tots
A new trademark filing and Honda's 75th anniversary being around the corner have people speculating.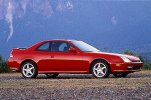 A trademark filing by Honda on August 15 could hint at the return of the name that was once revered for its innovation. Honda initially made a trademark application a couple of years ago for the Prelude name to be used for merchandise. However, the latest development, discovered by
MotorTrend
,
prevents competitors from using the badge on an actual vehicle
, which could suggest — if interpreted with a great deal of optimism — that Honda is looking at assigning the moniker to an all-new creation.
Before you get too excited, it's entirely possible that Honda is considering putting the Prelude name on a crossover or SUV. It could be a dedicated EV platform.
Of course, there's the other rumor that has been floating around that the company is planning to do something special for its 75th anniversary. The company famously unveiled the S2000 for its 50th anniversary. Honda did tease two electric sports cars last year when they announced plans to launch 30 EVs globally by 2030. Plus, with the Integra name making a comeback for Acura, there is precedent to back up the theory.
If the Prelude were to return as an EV sports car, it would almost certainly be based on the e:N architecture and feature a rear-mounted electric motor. Honda has also hinted that they have no qualms in giving the world an electric Type R, opening the doors of possibility to something that could even rival the next generation of Boxster/Cayman.