ᴛᴏᴘ ᴇɴᴅ ʀ4ᴄ1ɴ6 ᴍᴏᴛᴏʀᴡᴇʀᴋꜱ™|ᴛʀᴀᴅᴇʜᴏᴜꜱᴇ ᴄᴀɴᴀᴅᴀ™ ɪɴᴄ.
1,353
784
Vehicle Model

Accord SE
Body Style

Sedan
Hey everyone, my name is Jimmy. I am a proudly new owner of this 2012 Honda Civic Si sedan in Taffeta White. I haven't done anything on it yet but only got it's windows tinted 25% tints all around - F&R windows. It has also been rust proofed with the platinum package. I pre-ordered it in May at Midtown Honda which is located in Toronto, On Canada. I picked it up on August 10, 2011. Yesterday I did my first oil change after hitting my 1000km break in period, which means I can hit VTEC hard now. Even though I actually hit VTEC just passed 500km to be exact at 660km.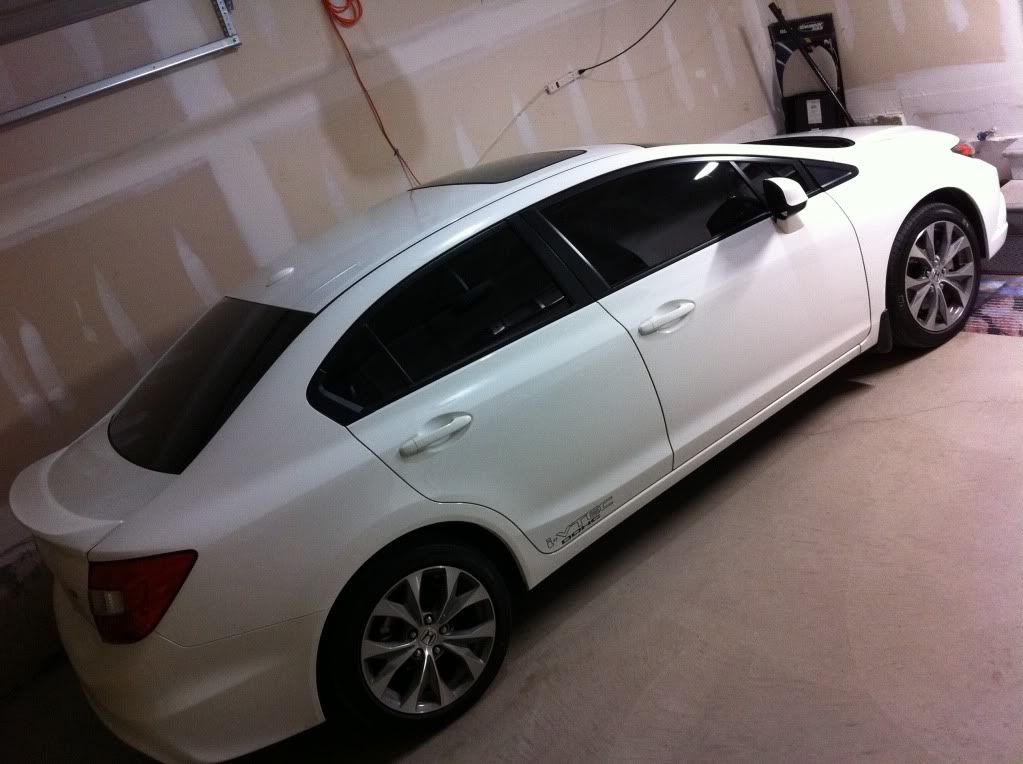 Here's a picture I took of it from the day after I picked it up. More pictures will be coming as soon as possible when ever I have time to do a photo shoot with my buddies. Sorry for the bad graphics, it's from an iPhone.
___________________________
Okay so I'm going to copy and paste my mods list here instead of adding it on every thread post.
Here's my updated mods list, and yes there are parts to be ordered. Or have been ordered.
Taffeta White 2012 Honda Civic Si 4 DOOR SEDAN - FB6 K24Z7
Engine / Performance Modifications:
​
**ENGINE & PERFORMANCE:
● 2012+ Honda Civic Si OEM Valve Cover Powder Coated Flat Black
● K-TUNED Honda/Acura Black K-Series Billet Oil Caps
● 2012+ Honda Civic Si Password:JDM Dry Carbon Fiber Coil Pack Cover (K24Z7)
(To Be Ordered)
● K-TUNED Honda/Acura K24 Billet Oil Dipstick
● Authentic J's Racing Rad Cap Type N (OEM Rads)
● Skunk2 Racing Civic Si 72mm DBW Black Series Pro Series Throttle Body (Ordered)
● 2012+ Honda Civic Si Injen Cold Air Intake
● 2012+ Honda Civic Si Ultimate Racing 304SS 3" Header Downpipe w/ Metal Core High Flow Cat
● 2012+ Honda Civic Si Ultimate Racing 304SS 3" Catback Exhaust w/ Resonator & 4" Single Wall Titanium Tip
● 2012+ Honda Civic Si Hondata FlashPro w/Bluetooth
● 2012+ Honda Civic Si Hasport Stock Replacement Engine Mount Kit
(To Be Ordered)
● 2012+ Honda Civic Si Password:JDM Dry Carbon Fiber ECU Over-Cover
(To Be Ordered)
● 2012+ Honda Civic Si Password:JDM Dry Carbon Fiber Fuse Box Over-Cover
(To Be Ordered)
Suspension & Wheel Modifications:
​
**SUSPENSION:
● 2012+ Honda Civic Si Ingalls Front Camber Adjustable Bolts
● 2012+ Honda Civic Si Skunk2 Racing GOLD Rear Camber Arms
● 2012+ Honda Civic Si Sedan Megan Racing Race-Spec Front Strut Tower Bar (Ordered)
● 2012+ Honda Civic Si Progress Adjustable Rear End Link Kit
● 2012+ Honda Civic Si Progress Rear Sway Bar - 24mm
● MOOG Suspension Universal Rear Sway Bar Frame Brackets & Bushings - 24mm (15/16 Inch) Part #: MOOG-K90399
**BRAKES:
(FRONTS)
● 2012+ Honda Civic Si StopTech Big Brake Kit:
- 4 Piston Calipers, & 328x28mm Slotted Rotors (83.062.4300.71)
- StopTech Stainless Steel Brake Lines (950.40011)
(REARS)
● 2012+ Honda Civic Si Hawk HP+ Pads
● 2012+ Honda Civic Si Power Slot Slotted Rotors
● StopTech Stainless Steel Brake Lines (950.40519)
**WHEELS/TIRES:
● Phase 1 *2012 SETUP* (DAILY & SHOW) (RETIRED/SOLD)
- Enkei RPF1 (Powder-coated Candy Teal) - 17x9+22ET - FRONT, & 17x9+22 - REAR
- Dunlop Direzza Z1 Star Spec Tires - 235/40ZR17 FRONT, & 235/40ZR17 REAR
● Phase 2 *2013 SETUP* (DAILY & TRACK) (RETIRED/SOLD)
- Enkei RPF1 (Silver) - 17x9+35ET - FRONT, & 17x9+35 - REAR
- Falken Azenis FK453 Tires - 235/40ZR17 FRONT, & 235/40ZR17 REAR
● Phase 3 *2014 SETUP* (DAILY & TRACK) (CURRENT SETUP)
- Volk Racing RE30 (GOLD) - 17x9+35ET - FRONT, & 17x9+35 - REAR
- Dunlop Direzza Z1 Star Spec Tires - 235/40ZR17 FRONT, & 235/40ZR17 REAR
● Phase 3.5 *2015 SETUP* (DAILY & TRACK)
- WedsSport TC105N (TITANIUM SILVER) 17x9+10ET - FRONT, & 17x9+35 - REAR
- Toyo Proxes R888 Tires - 245/40ZR17 FRONT, & 225/45ZR17 REAR
● 20% Front Side Windows Tint/5% Sunroof Tint/5% Rear Side Windows Tint/2% Rear Window Tint
● Rolled & Pulled Front Fenders
● Rolled Rear Quarters
● Authentic JDM Red Honda "H" Emblems
● 2012+ Honda Civic Headlights with 00-03 Honda S2000 AP1 RETROFIT :
- E46 Replica Extended Shrouds w/ S2K AP1 Projectors
- Housing Painted Black
- Shield Painted High-Temp Red
- Amber Reflector Delete
- SK Performance LED Lighting Ultimate Super-Bright 6000K D2S HID Bulbs
- SK Performance LED Lighting Ultimate Slim Ballasts
(Retrofit done by Linuxglobal Custom Headlights)
● SK Performance LED Lighting Ultimate Slim Ballasts
● SK Performance LED Lighting Ultimate Super-Bright DRL Turn Signal Switchbacks
● SK Performance LED Lighting Ultimate Super-Bright DRL/High Beam Lights
● SK Performance LED Lighting Ultimate Super-Bright 6000K HID Fog Lights
● SK Performance LED Lighting Ultimate Super-Bright Reverse Lights
● SK Performance LED Lighting Ultimate Super-Bright Brakes & Tail Lights
● SK Performance LED Lighting Ultimate Super-Bright License Plate Bulbs
● 2012-2013 Honda Civic Si Coupe Front Bumper w/ HFP Lip Kit
(To Be Ordered)
● 2012-2013 Honda Civic Si Coupe Front Password:JDM Dry Carbon Fiber Bumper Ducts (To Be Ordered)
● 2012+ Honda Civic Si Sedan Password:JDM Dry Carbon Fiber Sunroof Wind Deflector
(To Be Ordered)
● 2012+ Honda Civic Sedan Password:JDM Dry Carbon Fiber Side Splitter
(To Be Ordered)


Interior Modifications​
● 2000+ Honda S2000 OEM Push Start Button Conversion
● 2012+ Honda Civic J's Racing Steering Wheel Emblem
● 2012+ Honda Civic Si Buddy Club Racing Spec Quick Shift Kit
● 2012+ Honda Civic Si Hybrid Racing Performance Base Bushings
● Mugen Carbon Fiber Spherical Shift Knob - 6MT
● Buddy Club Racing P1 Limited Carbon Fiber Edition Bucket Seat - Regular V.2 Black (Pair)
(To Be Ordered)
● 2012+ Honda Civic Buddy Club Racing Spec Seat Rails (Pair)
(To Be Ordered)
● SK Performance LED Lighting Ultimate Super-Bright Map, Dome, & Trunk Lights
● Fully Gutted Trunk
Last edited: